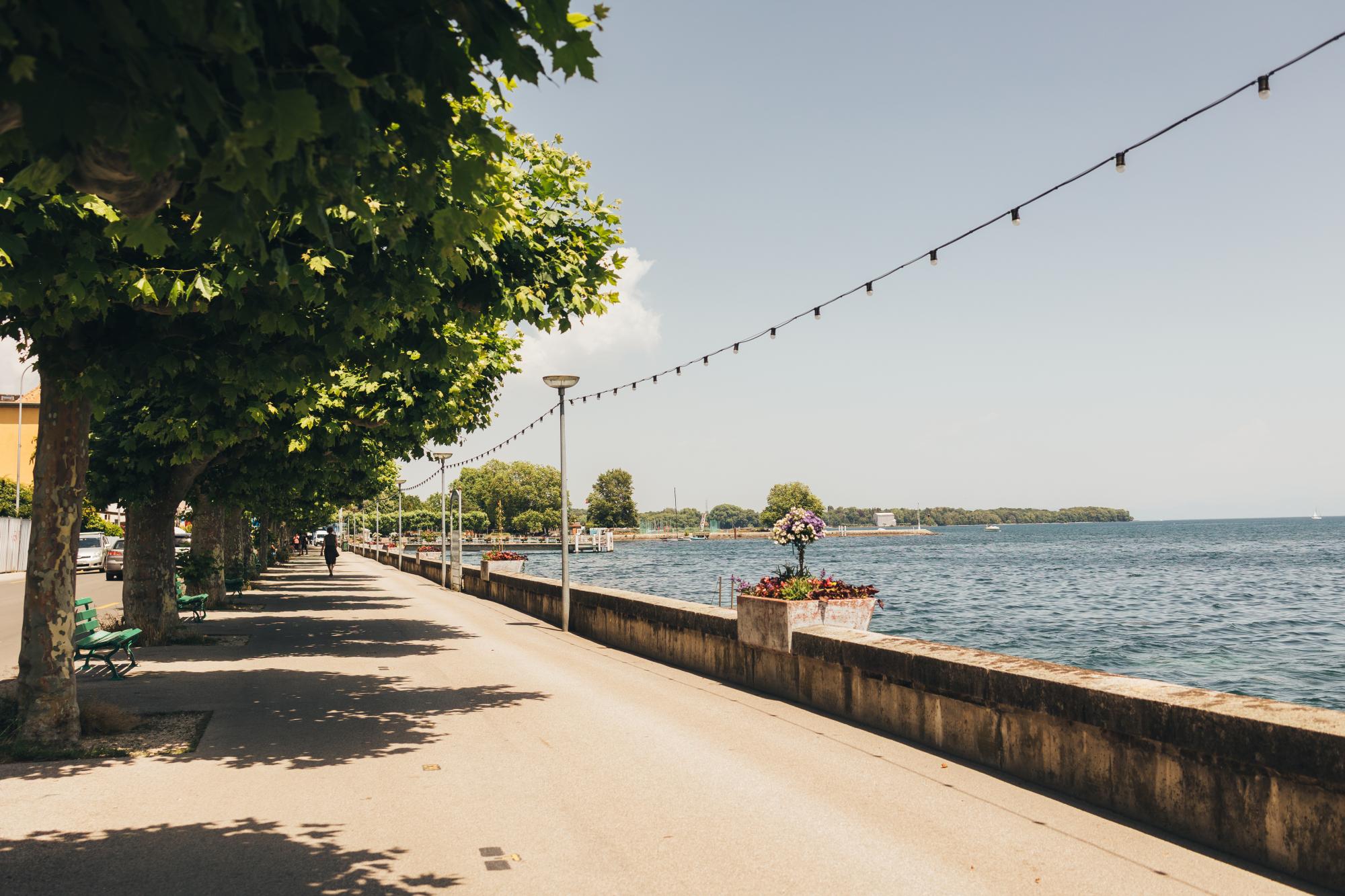 Good To Know
Here, you will find all the important information to ensure that your stay in our region goes as smoothly as possible.

Ideally situated between Lausanne and Geneva, the Nyon region combines a rich cultural heritage with a vast choice of local products. It is an ideal destination for exploring, strolling and tasting.

From the mountains of the Jura to the shores of Lake Geneva, it satisfies the most varied desires of its visitors. With more than 23,000 inhabitants and a surface area of 6.8km2, the town of Nyon has managed to keep its size small, giving it a warm and welcoming atmosphere.
The district of Nyon, with its 45 communes and more than 103,000 inhabitants, is the second most populated district in the Canton of Vaud, after Lausanne.

The town of Nyon is at an average altitude of 400 m. The highest point in the region is La Dôle at 1,677 m.

French is spoken here, but it is also possible to make oneself understood in English and German.

Translated with www.DeepL.com/Translator (free version)

The currency used is the Swiss Franc (CHF). The Euro is generally accepted in large stores (Migros, Coop, etc). Service providers such as SBB (railway company), CGN (Compagnie Générale de Navigation), La Poste, some restaurants and museums also accept them, although change can be given in CHF.

It is possible to exchange your money in CHF and other currencies (€, $, £, ¥, CAD, AUD...) at the various banks, at the Post Office, at the SBB stations and directly at the banks' cash machines.

The main credit cards (Visa, Mastercard, Eurocard) are accepted as payment in large stores. However, in small shops and restaurants, it is preferable to pay with debit cards (EC). Most of the payment methods are indicated directly at the cashier's desk or on the entrance door of the establishment.

A value added tax (VAT) is included directly in the purchase price.
The municipal offices are open from Monday to Friday.
Shops are open Monday to Friday from 8:30 am to 7 pm and Saturday from 9 am to 6 pm.
Museums in the region are closed on Mondays.
During the days listed below, restaurants and stores are usuely closed:
New Year's Day - January 1 and 2
Holy Friday - Friday, April 7, 2023
Easter Monday - Monday, April 10, 2023
Ascension Thursday - Thursday, May 18, 2023
Whit Monday - Monday, May 29, 2023
National Holiday - August 1st
Fast Monday - Monday, September 18, 2023
Christmas Day - December 25
The most important emergency number in Switzerland and in Europe is 112. If you dial 112, you will be connected with the police emergency control centre. You can also call this number using a foreign SIM card or when using a prepaid mobile phone card with no credit.
Police - 117
Fire service - 118
‹Helping Hand› counselling helpline - 143
Ambulance - 144
Toxicological information centre (in case of suspected poisoning) - 145
Pro Juventute helpline for children and young people - 147
SBB Transport Police - 0800 117 117
Federal Department of Foreign Affairs (FDFA) Helpline (consular services)From Switzerland: 0800 247 365
From abroad: +41 800 247 365 or +41 58 465 33 33